Message of Principal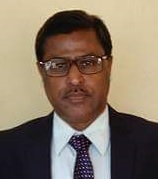 As the Principal of Srikrishna College, Bagula, I would like to share my thoughts and dreams on and about this institution. This college is based on the philosophies of continuous assessment and renovation. Speaking about assessment, we have recently completed the 2nd cycle of accreditation by NAAC and secured 'B' grade. We have received funding under the scheme of RUSA, which is being used for an enormous overhaul and quality enrichment of our infrastructure. Alongside the process of quality enhancement we are also trying to add a few more feathers in our crown. For example, we are eying to introduce Postgraduate course in Bengali besides adding a couple of new subjects like Botany and Zoology in our curriculum. We have already installed facilities like virtual classroom and free Wi-Fi zone as a step towards more tech-friendly study environment. The establishment of smart classroom and refurbishment of library are well under process.
Success of an Institution lies in nurturing the true value of education and implementation of those values for the betterment of our society. Plenty of activities like blood donation camps, Swachhwa Abhijan and special camps are held under NSS to hone the traits of a good citizen in a student. Our students' union organise several programmes like college socials, annual sports meet etc as a part of extra-curricular activities. As an organiser of an inter-college cultural competition 'ZEPHYR', we are proud to cherish our rich cultural heritage. Apart from all these, our students are also involved in many other extra and co-curricular activities like publishing of the college magazine 'Panchyajanya', several departmental wall magazines and organising departmental tours
In spite of all the limitations, our philosophy has always helped us to concentrate on the brighter side of things. We believe that limitations always force a way to innovation and success. With a set of dedicated and experienced teachers as well as non-teaching staff and better infrastructure we are here to provide a platform for our students to become a well -educated and responsible part of our society. It is our responsibility to achieve a sustainable improvement in teaching and learning. So, I would like to request all of my students and colleagues to be an active part of this beautiful journey. Together, we can turn our dream of a better future into a reality and turn our endeavours into a huge success.
Dr. Sukdeb Ghosh
Principal
Srikrishna College, Bagula